This black and white diamond rings for women collection is spell-binding! It's sexy and inviting. Get one now and get them all hooked!
Oval Black Diamond Ring with White Diamonds in 14k Gold
$698.00
14kt white gold Black and white Diamond oval ring. (164HC26R) 698 .22 ctw of White Diamonds .23 ctw of Black Diamonds Weighs approx 2.5 grams Measures 1/2" wide x 3/8" at widest part of oval Comes in a nice gift box Matching earrings and necklace also available, see below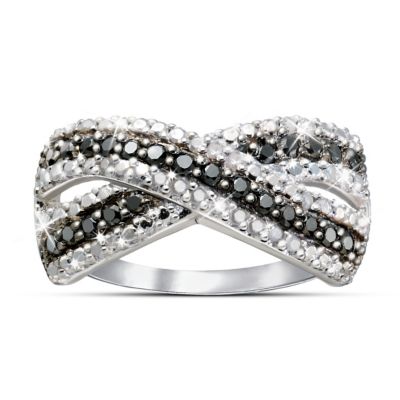 Midnight Kiss: Black And White Diamond Women's Ring
$297.00
Nothing is filled with more intrigue than the promise of a kiss shared deep into the night. It is a moment of true romance. Now, you can celebrate the passion of love with this stunning black and white diamond ring, a fine jewelry design exclusively from The Bradford Exchange. Exquisitely handcrafted in solid sterling silver and set with 44 genuine black and white diamonds (24 black diamonds and 20 white diamonds), this sparkling ring features the symbol of romance – a kiss! Crisscrossing at the center, this kiss ring forms a passionate kiss radiant with shimmering gems. Plus, this elegant Midnight Kiss ring arrives in a custom-designed presentation case, perfect for safekeeping and gift giving. High demand is expected. Order now!
Black and White Diamond Ring in Sterling Silver
$498.00
Sterling silver Black Diamond ring accented by White Diamonds. (268HD04R) 498 1 ctgw of genuine Black and White Diamonds Measures just over 3/8" wide Weighs approx 4.7 grams Whole sizes 6-8 only Comes in a nice gift box
Round Black Diamond Ring in 14k Gold with White Diamonds
$795.00
14kt gold round Black Diamond ring surrounded by White Diamonds. (294FD06R) 795 All genuine gemstones .21 ctw of White Diamonds .34 ctw of Black Diamonds Weighs approx 2.8 grams Measures 1/2" round Comes in a nice gift box Matching earrings and pendant shown below
Black & White Diamond Crossover 18K Gold Ring
$4,417.00
Remarkable design and luminous black and white diamonds work together to form an elegant crossover ring in an exquisite 18K white gold setting. CTW white diamonds 0.98, black diamonds 0.96; color G; clarity VS. Signature box included. Made in Italy.