This black diamond rings for women collection is the real definition of class! It's beauty is elegant and timeless, like you. Get one now and be forever sublime.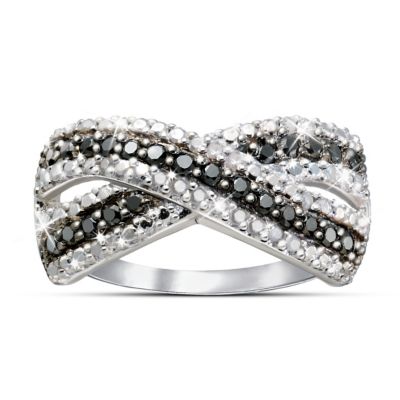 Midnight Kiss: Black And White Diamond Women's Ring
$297.00
Nothing is filled with more intrigue than the promise of a kiss shared deep into the night. It is a moment of true romance. Now, you can celebrate the passion of love with this stunning black and white diamond ring, a fine jewelry design exclusively from The Bradford Exchange. Exquisitely handcrafted in solid sterling silver and set with 44 genuine black and white diamonds (24 black diamonds and 20 white diamonds), this sparkling ring features the symbol of romance – a kiss! Crisscrossing at the center, this kiss ring forms a passionate kiss radiant with shimmering gems. Plus, this elegant Midnight Kiss ring arrives in a custom-designed presentation case, perfect for safekeeping and gift giving. High demand is expected. Order now!
Jessica Elliot "Floating" Double Ring with Black Diamond Women
$175.00
Please Note: Please allow up to 2 weeks for processing. Items usually ship faster. Jessica Elliot designs handcrafted pieces in gold and silver that have been featured on television programs and in a variety of magazines. This ring is a modern and elegant take on the edgy "knuckle" ring. Wear on any occasion for a sure fire and timeless hit! Materials: Sterling Silver, Swarovski Crystal Designer Style No. Floating in Black Please Note: This item is only eligible for return within 5 days of the customer's receipt. No exceptions.